Channel hope, sensitivity, and abundance by wearing Moonstone. Associated with the crown chakra and divine feminine energy, this iridescent gemstone is thought to inspire intuition and psychic abilities. Discover the Moonstone meaning.
The Sacred Meaning Behind Moonstone.
Seen as a veiled spectacle of light or cirrus clouds passing before the moon, Moonstone mesmerizes gem aficionados of different cultures with its otherworldly façade. The pearly iridescence it showcases is such a thing of beauty, it should host a deep meaning. And true enough, its mysterious name and playful glimmer stand behind a towering significance. It is highly valued by monks, shamans, spiritualists, and devotees from various religions.
What does it really mean? Did it come from the moon? And how can it change your life? Dive into the mythical powers of Moonstone jewelry and see why you'll love it.
Named for its lunar glow, Moonstone enhances intuition and self-acceptance.
Channel your intuition and inner goddess anywhere you go with Moonstone jewelry.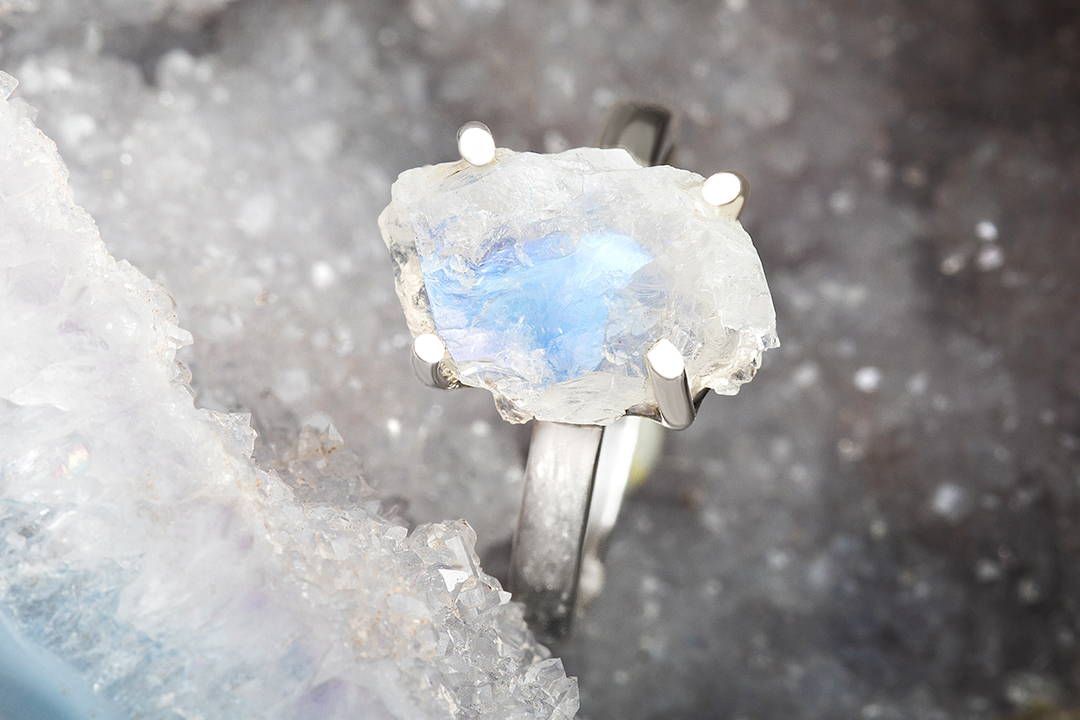 Wear Moonstone to embrace new beginnings and changing cycles. Check out our favorite ways to wear this magic stone.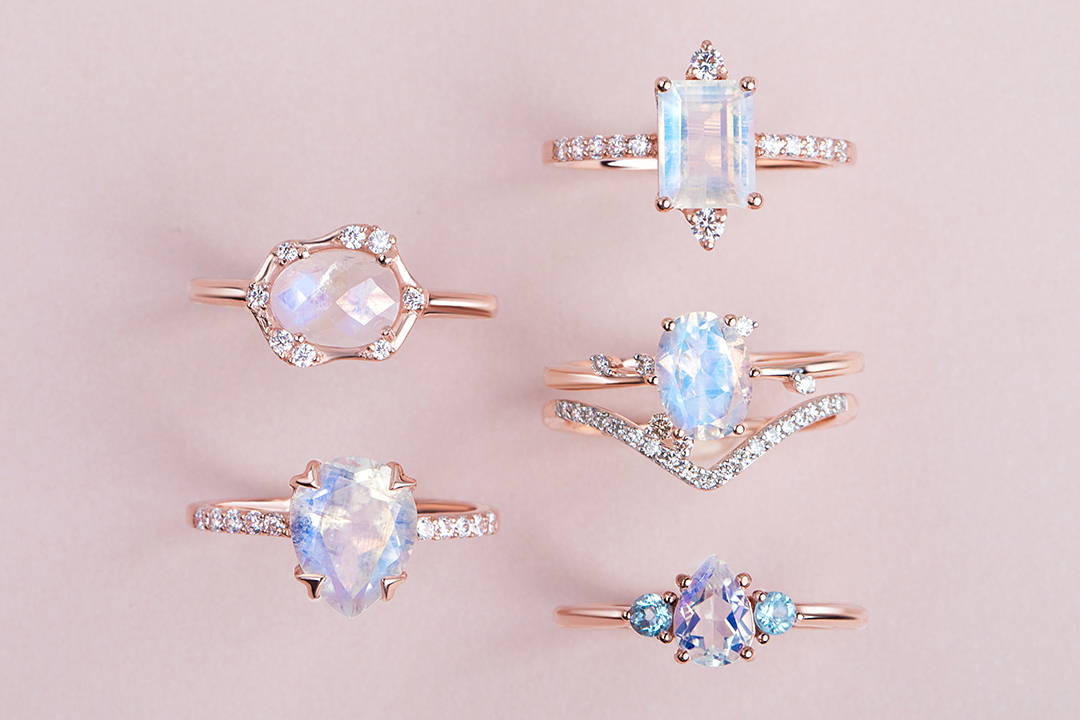 As ancient as the moon itself, the meaning of Moonstone lies within its energy. This power can nourish, give passion, and awaken your feminine energies. It can heal and guide you to your inner path. Together with the waxing and waning of the moon, it evokes tranquility that has a sensual, esoteric feel to it. It exudes a glowing vitality that can re-energize the mind and body and wash negativity away. Since it is enveloped by strong rays of gold, blue, and purple, Moonstone is perpetually embraced with gleaming white energy that makes it a protective gem.
As ancient as the moon itself, the meaning of moonstone lies within its energy.
Moonstone is part of the mineral family of feldspars. It's an opalescent stone that can be found in colorless form as well as peach, pink, green, gray, yellow, brown, and blue. The play of light seen in Moonstone is called adularescence, and its clarity ranges from transparent to opaque.
The most prized moonstone is from Sri Lanka and India. Blue moonstones are highly valued because of their rarity. Such stones can only be found in Sri Lanka. India is famed for producing Rainbow Moonstones. The most historically interesting moonstone mines are found in Switzerland's Adula Mountains. Other mines around the globe can be found in Myanmar, Brazil, Norway, USA, Australia, Germany, Tanzania, India, and Madagascar.
Our Favorite Ways to Wear Moonstone